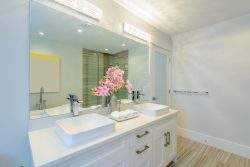 At some point, your home or business is going to require the expert oversight of a qualified electrical expert in Cumming, Forsyth County, Coal Mountain, or Chestatee, GA. When that time comes, make sure you're calling Duke Electric Company. We go above and beyond to guarantee sound electrical work and complete customer satisfaction on every job we accept.
Our range of capabilities and expertise stretches over virtually any interior electrical job you might have, including recessed lighting installation. Residential and commercial customers alike call us for:
Repairs: Blown fuse? Dead outlet? Fixture not working any longer? We provide a full range of electrical repairs to ensure your facilities are in safe working condition. Our master electricians always work to deliver comprehensive service, to ensure all of your electrical repair needs are met.
Installations: Whether you're modernizing a basement or just need a new ceiling fan installed, we're the ones to call. We'll make sure any and all electrical installations are done to perfection, and that they're working safely for you.
Troubleshooting: Problems with a particular circuit in your home? Lights flickering in your office? Whatever the problem may be, we'll get to the bottom of it. Our electricians are adept at quickly tracing problems to their source and will ensure they're resolved the right way when we find them.
Lighting: One of our specialties is recessed lighting installation and we're happy to strategize with you about the ideal lighting options for your home or business. In addition, we can do LED conversions and more, to fully optimize the lighting in your space.
Our electrical services extend to all of the above items and beyond, giving you peace of mind that our professionals are delivering a quality job well done when you work with us.
Emergency Electrical Services
If your power is out or there's an electrical situation that needs immediate help, rely on us as your emergency electrician in Forsyth County, GA. We'll arrive on site quickly to deliver the solutions you need. Our electricians are available 24 hours a day, 7 days a week to serve you.
For more information about any of the interior or exterior residential and commercial electrical services we can offer, please contact us today by calling 770-889-1760.