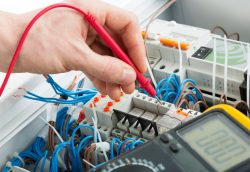 Your workplace runs on electricity—from the computer you're typing on, to the light over your head, to the fax machine, printer, scanner and phones throughout your office! Ensuring these items are being properly powered is a top priority. That's why it's critical to call Duke Electric Company's commercial electricians for commercial electrical work in Cumming, Forsyth County, Coal Mountain, and Chestatee, GA.
We're here to be your partner for all things electrical. As a licensed commercial electrical contractor, we have the training, tools, and experience to address the electrical needs at your business. From high-voltage projects to rewiring to electrical installations, we're fully capable of handling all of your commercial electrical projects. Some of the services we provide include:
Electrical inspections
New construction wiring
Service and panel upgrades
Switches and outlet upgrades
Accent lighting installation
Generator installation
Rewiring services
Security lighting
Whole-building surge protection
Circuit breaker replacement
Our familiarity with projects of all scopes and sizes is what makes us the most trusted commercial electrician in Forsyth County, GA. And, best of all, we bring customized electrical solutions to the table, so you know your business is always getting the unique attention it deserves.
Commercial Lighting
Lighting is a specialty among our many commercial electrical services! We can help your business get the lighting it needs, at a price that's affordable. Whether you're converting traditional fluorescent lights to new LED bulbs or you're choosing recessed options of track lighting, we'll gladly plan and execute the ideal lighting approach for your office space or facilities. We can even do motion-sensor lighting and other smart lighting!
For more information about our full scope of commercial electricians' capabilities or to consult with us about commercial lighting, contact our professionals today at 770-889-1760. We're equipped to tackle commercial, residential, interior, and exterior projects of all sizes—from brand new commercial construction installations, to retrofits for established businesses.